It's your time to Shine !
Now is the time for you to share your gifts.
Sparkle Detox Course leads your to enhance your authenticity, natural energy and reveal your innate radiance.
Sparkle Detox provides a series of simple steps to help overcome the complex situation of a toxic body burden.
It provides effective tools, know-how and inspiration to support internal cleansing.
One step at a time.
Detox isn't about deprivation and suffering, nor taking a million pills and potions.

It's about gentle exploration of the things you want to let go of, and the things you want to embrace.
Sparkle Detox is a cleansing process that provides you with the foundation for inner body cleansing. It uses foods, herbs, fasting and hydration practices, mindfulness, nature connection and gives insight to supplements that can support your natural detoxification and rejuvenation.
"I gained a greater awareness of my body and its needs – and what it doesn't need! I easily lost 3 kilos in 5 weeks that I had been unable to budge through diet and exercise… Couldn't recommend the Sparkle detox highly enough! – Michelle Murphy
You'll be taken through step by step
Think about the satisfaction you feel when you sort out a messy stuffed cupboard. Imagine how you'd feel doing that to your body and mind, then hanging out in the clarity of that space!
Sparkle Detox helps you to release the dross and create space for your evolving self to open to the delightful, fresh fascination with your unique and precious human life.
"It has made a profound shift in the way I do life – my pantry looks different and I feel far more optimistic than I did 3 weeks ago. So grateful! Thank you" – Leanne Bendigo.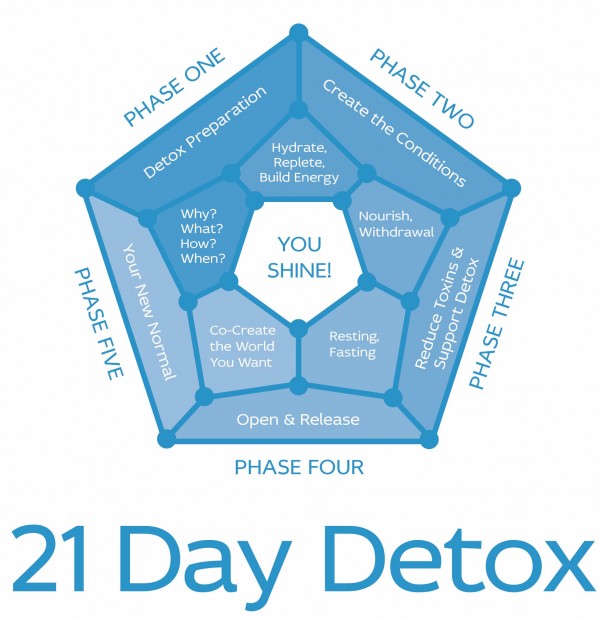 Cleansing is fundamental to good health.
Natural detoxification occurs in each cell all the time. When too many toxicants enter our bodies, our natural detoxification process can't manage them all. So we store the excess and accumulate a "toxic body burden".
Earth's systems are, by and large, polluted. Consequently, so are we. Today every living being on the planet contains synthetic chemicals and heavy metals. These toxicants are the negative legacy of industries, and contaminate much of the food we eat, air we breathe, and water we drink. In addition, today our lives are increasingly busy and stressful, yet often sedentary and lacking natural connection. The standard western diet is nutrient poor. The human created factors that contribute to chronic poor health have been given the name 'anthropogens'.
These factors (anthropogens) added together challenges our body's normal detoxification processes. Excess toxic load contributes to a wide range of symptoms and signs, from muscle aches, low energy and disrupted sleep to skin issues, digestive complaints and dulled thinking. This situation opens the door to a wide range of inflammation based problems – that can manifest as arthritis and skin disorders, to infertility and cancers, excess weight and other chronic diseases.
Regular cleansing periods are a great way to enhance natural detoxification and boost your vitality. Humans and animals naturally fast or undergo cleansing periods, often during the change of the season. Such periods are embedded in many cultures and religions.
"As someone who came into this course after an illness, I can't recommend it highly enough – I am feeling fantastic – re-energised and revitalised!" – Jenny Melbourne
Cleansing helps realign you with your natural vitality.
"Wow, I'm already noticing differences from the dietary changes we've been making, sleeping much better, much less lower back pain at night and losing weight too." – Gail Bendigo
It's important to have adequate resources before starting a more intense "detox" process. There's an array of basics which need to be addressed to enable a safe and beneficial cleanse. That's why Sparkle Detox process was developed.
The 5-Phase Sparkle Detox Process
created by Naturopath Sally Mathrick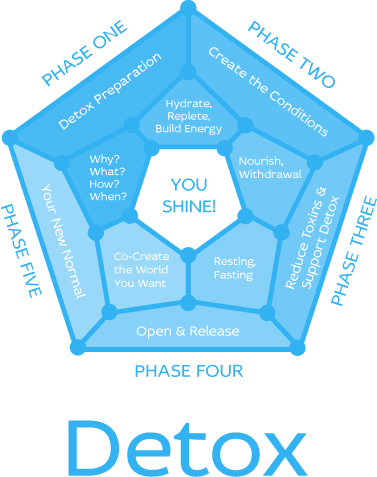 Sparkle Detox process guides you to first undergo a comprehensive preparation process. Then you're offered a range of options for an 'intense' detox, including intermittent fasting and juice fasting programs. Throughout Sparkle Detox Course you are guided to reduce toxins in your life and to "recalibrate normal". You start to establish beneficial, supportive habits for a more vital, fulfilling life.
The 5 Phases of Sparkle Detox
Phase 1: Preparing to Rejuvenate
Phase 2: Create the Conditions
Phase 3: Reduce Toxins and Support Detox
Phase 4: Open and Release
Phase 5: Your New Normal
"The whole course was so much better than I expected and am pleased to say I achieved my goals… I learned more about my health, became healthier and lost weight. In the first week alone I was already getting comments from people about how great I was looking!' – David Melbourne
Generally people set their time line for Sparkle Detox to a focused 3-5 week period, however, the pace is up to you. You can access the content for as long as it is online. This means you can return to review or implement some of the tips you didn't do in the first instance. Plus receive updated and new information, recipes and insights.
"I have loved doing sparkle and have really been inspired .. The knowledge I have gained is priceless." John, Melbourne
Sparkle Detox Course has been running since 2011, and has supported many people, as unique as you, to shine like the stars they are.
"The Sparkle course was fantastic – a good mix of information and practical tips for incorporating 'wellness' into every aspect of life. I learned a lot from the course and have made changes to not only my life but my families life as well for a healthier future – it was great!" – Genie, Melbourne
What's included in Sparkle Detox Course:
Ongoing access to an online learning environment that's easy to navigate on any device
Streamlined directions and generous resources to lead you through five phases of Sparkle Detox, which prepare your mind, body and environment for more efficient cleansing

Information is 'chunked down' into 33 easy online lessons that deliver valuable information that has been devised by naturopath Sally Mathrick over the past 20 plus years of practice and education. These includes:
How to structure your "fasting" process
How to minimise detox reactions
Webinars on fasting and breaking bad habits
Short MP3 lectures from Sally to direct your actions
Quiz to Assess your toxic burden
Checklist to Detox your home and office
Delicious detox Recipes #deliciouswithbenefits
Detox Juice recipes
Detox Herb Manual
Shopping Lists
9 summary emails delivered over 4 weeks period
Sparkle Detox Heavy Metal Detox Guide
Links to additional accurate external resources for those interested in finding out more
PLUS There's no need to purchase tonnes of supplements. Sparkle Detox is based on foods, herbs and (in some cases) a few supplements that are easily accessible from grocery and health food stores.
30 day money back guarantee!
If you are not satisfied with your Sparkle Detox Course, we will happily refund your money in full, no questions asked. However, we'd be super interested to know what you felt was missing or what didn't meet your needs, as every body has loved it so far!!
"I found the Sparkle Wellness & Detox course extremely rewarding. It helped me realise how choosing whole foods can completely change the way you look at eating. I feel fresher and more awake than I have in years. Sally was fantastic throughout the duration of the course and I felt well supported the whole time. Her guidance was invaluable. I will definitely be changing the way I live my life from now on and will enjoy my new 'normal'." – Grace 2012